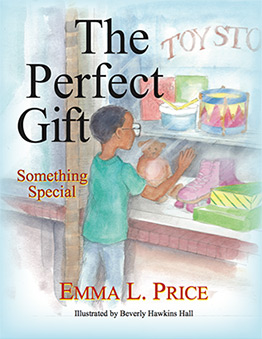 Author Emma Price's goal for writing this book is to show boys and girls how they can be determined, think outside of the box, and think of something that would make others feel good. Most kids between the ages of 4 – 8 are self-centered, think of what they like, and do not consider others' likes and needs.
On several occasions, Marlon asks his teacher if the gifts he likes could be the gift for the kids at the hospital, she rejects them. Marlon's spirit is crushed. But he is determined to find the ideal gift. So, he keeps on searching.
The main character, Marlon, is a good role model. He persists until, on his own, he comes up with an idea of a gift that his teacher accepts.
Buy The Perfect Gift Something Special today to find out what Marlon comes up with as his perfect gift!
Order through PayPal and I will personalize and sign each book as you request.
Print edition $17.95 plus applicable taxes and shipping:
Reviews for The Perfect Gift Something Special
The Perfect Gift Something Special
is an adorable picture book about a boy searching for a special gift to give to sick children in a hospital. Marlon, the main character, was given a school assignment to think of a special gift for children patients in a local hospital. He is determined to find the perfect gift and seeks his family's help. In the end, Marlon is able to think of the perfect gift on his own.
I enjoyed this book. As a former elementary classroom teacher, this is a book that I would have enjoyed reading aloud to my students. The Perfect Gift would have stimulated their interest and captured their attention. It would have led to great discussion topics such as determination, family life, and caring about and helping others.
Ms. Price has written a book that any child would cherish. The Perfect Book Something Special is relatable and appropriate for young readers. It is easy reading with repetitions that even younger children could learn to read.
I rate this book 5 out of 5 stars. Ms. Price has written another award-winning book.
— Kayrese McDuffie
This book is a wonderful idea to encourage empathy in children. Good job.
— Michael Thal, Author of The Legend of Koolura