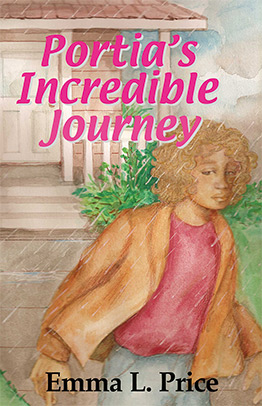 Portia's Incredible Journey is a page-turning novel about overcoming adversity, family separation, and coming of age told from the point of view of Portia Maddox, an eleven year-old African-American girl. When Portia faces the worst day of her life, she thinks things could not get any worse. But this is just the beginning of an incredible year from having to give herself insulin, to bullying, to the threat of her family breaking up.
Only when Portia understands the words from Grandma Ruth, "Life's a succession of storms that makes us grow stronger," can she deal with these difficult challenges that continue to surface.
Order through PayPal and I will personalize and sign each book as you request.
"When I read 'Portia's Incredible Journey,' it was as if the author was writing about me. I was 9 years old when my parents and I found out I had type 1 diabetes. As I read Portia's story, I felt her pain and realized that I'm not alone as a type 1 diabetic. It is a great book."
–Saraolivia T., 11 years old, 6th grade, Monroe Math/Science Magnet, Inglewood, CA.
Print edition $9.95 plus applicable taxes and shipping:
Reviews for Portia's Incredible Journey
Your book is wonderful. I mentioned to you that the suspense you built up until the end concerning why Portia's parents separated was brilliant. That is why readers will not want to put the book down. I was so impressed with the research you must have done concerning the medical aspect of diabetes. I even love how you wrote the words for the weather broadcast by the meteorologist on television reporting about the hurricane. Great Job! Overall, the book is great. I really feel for Portia and everything going on in her life. You built a character in Portia that I want to know more about and know more about what will happen in her future.
— A. Yamada, National Board Certified Teacher, Sixth Avenue Elementary School, Los Angeles, California
Portia's Incredible Journey is a heartwarming story about an eleven year-old girl named Portia, who must brave a challenging journey of personal crisis and self-discovery, learning to understand the sun always shines after the rain is gone. With her grandma's sage advice, her perseverance, and the unconditional love of her parents, Portia blossoms into a mature young lady who learns to love and be loved.
The heroine created by Ms. Emma Price is a positive role model for boys and girls facing difficult circumstances and going through their own troubles.
— Wendy Li., LMT, Portola Middle School, Orange, CA
Portia's Incredible Journey is indeed an incredible book. The author deftly handles the subject of diabetes and how to handle the process of using a needle everyday even when you are too scared to do it yourself. Portia also has to deal with a bully and the author handles this subject matter quite well. Ms. Price fills the reader with lots of good information while being entertaining and engaging. It is a book that should be in every elementary school library and also in public libraries. A necessary purchase.
— Sherri Ginsberg, School Librarian-Hillsides, Pasadena, CA
I finished Portia's Incredible Journey this morning. I REALLY enjoyed it. I had tears in my eyes a few times. It's an amazing first book!
— Janik Sundher Hundal, Literacy Coach, Los Angeles Academy, Los Angeles Unified School District
Portia's Incredible Journey is filled with adventures and mysteries. This is a page turner that will comfort and enlighten young readers.
— Sue Ganz-Schmitt, author of "Even Superheroes Get Diabetes"
As an educator, I know how important it is for children to read quality literature books, such as Portia's Incredible Journey, that are culturally responsive and relevant.
— Beverly Jean Crosby, Principal, Fifty Second Street Elementary School, Los Angeles, California
Portia is a likable character and I enjoyed reading this book.
— Zachary C., 5TH grade, West Clayton Elementary School, Clayton, NC
Portia's Incredible Journey was so entertaining, I couldn't stop reading it until I finished. This book is great for young people to read and learn how their peers handle serious problems maturely. It was rewarding to see how Portia grew and matured.
— Pinkie Young, RN, BSN, MS, author of "One Child's Faith, One Child's Courage"
I loved, loved, loved reading your book! I took it to Hawaii. While on the plane, I could not put it down. While sitting on the balcony over looking the partial ocean view, I read with complete enjoyment. You captured the camping experience. I could visually see, smell, and feel the part where the girls went horseback riding!
— G. Jackson-Bassett, National Board Certified Teacher, Castle Heights Elementary School, Los Angeles, California
I felt truly excited about sharing Portia's Incredible Journey with my third grade class. Because of the characters' realistic dialogue and Mrs. Price's enticing storyline, they couldn't wait to see what happened next. We are all looking forward to Portia's next journey!
— Connie Carpenter, 3rd grade teacher, Library Committee Chairperson, Charnock Road School, Los Angeles, California