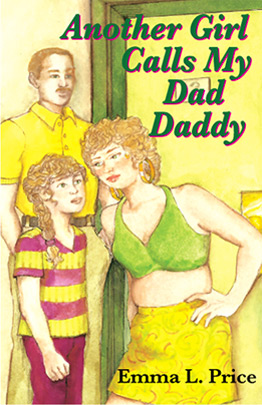 Another Girl Calls My Dad Daddy continues where author Emma Price ended her first children's book, Portia's Incredible Journey. In this new page-turner, Portia Maddox is going to meet her sixteen year-old half-sister, Jasmine, for the first time. Portia desperately wants Jasmine to like her, but it's not to be. The moment Jasmine sees how well their father treats Portia, she becomes jealous. Jasmine sets in motion a plan to make life miserable for her younger sister. Read to learn the outcome of this heart-felt, emotional story.
Order through PayPal and I will personalize and sign each book as you request.
Print edition $9.95 plus applicable taxes and shipping:
Reviews for Another Girl Calls My Dad Daddy
Another Girl Calls My Dad Daddy is not only important for children living with diabetes but also so relevant to children living with blended families of one kind or another.
— Elaine Mirsky, retired teacher, Berendo middle School-Peer Assistant and Review Consultant Teacher, Los Angeles Unified School District.
Tension is constant in this engaging, continuing saga for Portia – who must not only contend with her diabetes, but also must now hide her medical condition from her newly discovered, bullying, older half-sister. Will Portia be able to keep her secret? Price has penned another essential story for young readers trying to navigate very real issues of adolescence.
— Geralyn Goodman, author of Hedgeborn
Another Girl Calls My Dad Daddy holds a compelling cover of an older and a younger girl and the father who stands behind them and presents an intriguing theme for ages 8 and older, beginning with twelve year-old Portia Maddox, who meets her older half-sister for the first time.
Portia is hopeful for a positive relationship because they share the same father and she has longed for a sibling; but Jasmine is not what she expected. Portia is so disappointed that she is afraid to share that she has Type 1 diabetes. Jasmine believes Portia has a better life than she and is more beloved by their father – and so Jasmine embarks on a series of efforts to make Portia's life miserable. It's young Portia who is wise enough to know that now she has to 'share' her father – but because Jasmine sees that Portia seems to be the apple of her father's eye, she quickly turns into a jealous, vindictive person. How can a positive relationship be forged from such adversity?
Emma L. Price excels at crafting realistic situations, unlike many similar-sounding stories. It's not a simple 'hate at first sight', for example: Jasmine and Portia's phone discussions and long-distance introductions have been warm and seem to hold much promise for the half-sisters getting along, even given that fifteen years went by before either knew about the other.
There are numerous young adult and pre-teen stories on the market about blended families, but most involve step-parents and only lightly touch upon sibling relationships. Even the title of this book strikes at the heart of the matter: sibling jealousy.
The complexity of family relationships may be explored through Portia's eyes and a first-person account, but equal attention is given to presenting Jasmine's impressions and rationale for her actions, making Another Girl Calls My Dad Daddy a compelling read for any interested in the rigors of blended family interactions.
— D. Donovan, Senior Reviewer, Midwest Book Review
"You can't control the wind. But you can adjust your sail."
Twelve year-old Portia Maddox anticipates sibling warmth when she finds out that her sixteen year-old stepsister Jasmine will be spending three weeks with her. Yet meeting her for the first time, Portia is shocked and hurt by how Jasmine feigns kindness in front of Portia's parents while bullying her behind their backs. Adding insult to injury, Portia cannot even convince her parents of Jasmine's devious behavior. Pitted in a corner, Portia pours out her feelings in her diary and then hides it, as well as her medicine, for fear that Jasmine will pick on her once she learns of Portia's type 1 diabetes. Although she experiences a series of demoralizing situations including Jasmine unearthing her diary, nothing quite prepares Portia when she comes home from a concert only to discover that Jasmine is in the hospital.
The second book in a series of Portia's stories, rising author Emma L. Price creates realistic familial circumstances centered on the topic of type 1 diabetes. Price's first person narrative features Portia, a young girl who is learning how to fit in the world with her insulin-dependent condition. Constantly struggling with one thing or another, Portia's new challenge is her condescending stepsister. Unique to Price's stories is her powerful portrayal of a strong-willed young gal with a chronic, debilitating and often deadly disease who doesn't give up amid trials. Price always keeps her plot fresh and fluid by alternating scenes with Portia's diary entries. Earmarked for youth—ages eight to twelve, Price captures the essence of why she writes: "This book is dedicated to those who braved diabetes, to the families and friends who love them, my mother who died from the many complications of diabetes and especially the young people I know who have type 1 diabetes." Definitely a well-needed addition for home and school environs!
— US Review
Great story! Author Emma Price really captured the voice of Portia in Another Girl Calls My Dad Daddy. This is an excellent read for a young audience. Bravo!
— Linda Maher, National Board Certified elementary school teacher, Vine Street Elementary School, Los Angeles Unified School District.